Pay Your TDS Telecom Bill
TDS telecom was founded in 1969, and its headquarter is in Madison, Wisconsin, the U.S. The company has a parent organization named Telephone and data system and it has subsidiaries such as OneNeck IT solutions, TDS Metrocom and so on.
Plans and packages
To view the plans of TDS telecom you must venture to, www.tdstelecom.com. Here at the menu panel, you can click on, 'TV services', Internet service', 'Hoem phone services' and in the drop-down look for the packages and plans. With internet you will get 1GB fiber internet, extreme600 fiber internet, extreme300 fiber internet, extreme100 fiber internet, extreme50 fiber internet. With the 'TV programming packages', get 190, 135 and 125 channels. If you select the 'Phone packages' check out the classic unlimited phone package, classic phone package, 5-star phone package, 4-star phone package, 3-star phone package. Take note of the packages and to look for more go to the 'Best deals'.
If you are looking to pay the TDS telecom bill online, you must log in to your account, but before that, you must sign up.
Sign up for TDS
To avail, these steps visit www.tdstelecom.com Here at the top right of the page click on 'Login'.
On the directed page click on 'My Account' then 'Sign up'.
Here at the exact page enter your
Email address
Or phone number
Or account number and click on 'Continue'.
After this, you must follow the later details and you will be able to sign up. Now you must log in to your account and pay the bill.
Logging into your account
Here from the 'Login' page go the next one and here enter your TDS username and then clicking on 'Continue' you will be logged in and can also pay the bill.
Forgot username or password
If you face the issue of lost login credentials for TDS, you must visit the same page, and here on the login page click on 'Forgot user name? Retrieve it.'. Here enter your account number choose the place you want to receive the security code. You will get the options for email, text, and call. After selecting it you must press on the 'Continue'. Follow the detailed prompts after that and you will get back the information. If you still face any issue while logging in you can contact, 800-605-1962.
Benefits of TDS telecom online account
Manage your account
Pay bill online
Get to change the security setting
Bill payment
There are 5 methods you can pay the bill of TDS.
Online payment
For this, you must log in to your account first and to know the process you must check the above-mentioned points.
Rush payment
On the next page enter your account number, control date and click on 'Continue'.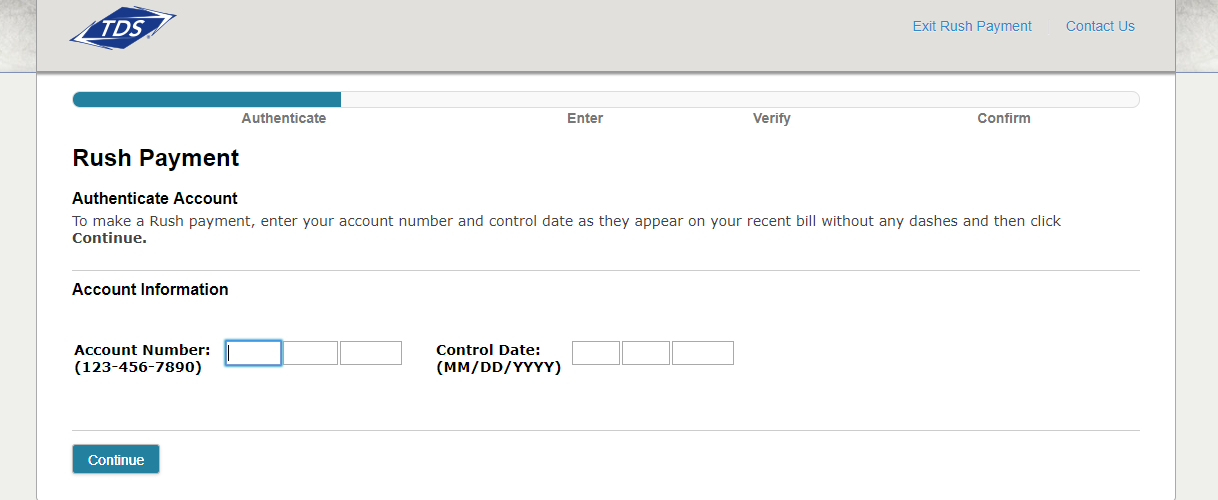 Do follow the later prompts and you will be able to pay the bill. Although this payment will take a fee of, $1.95.
Payment via mail
Send your payment with all the details at- TDS Payment Center, P.O. Box 94510, Palatine, IL 60094.
Also Read : Pay The T-Mobile Bill Online
Payment via phone
To pay this way you can contact- 877-239-1600 and it will take $1.95 fee.
In person
If you want to pay in person then you can pay at Walmart and in the Western Union locations.
Contact details
To contact the customer service for any query, you can call on the toll-free number- 1-866-571-6662.
Reference :