Pay Your Globe Life Insurance Premium
Globe life was founded in 1951 and has its headquarter in, McKinney, Texas, United States. The company is a policyholder of 4.2 million consumers.
Free life insurance information
To get all the information about life insurance you need to visit, www.globelifeinsurance.com . Here at the right side, you will get a box and there select your state, then click on 'Continue'.

After choosing the state, you will have to type

First name

Last name

Address

Apartment number

City

Zip code

Email
Specify the age and press on 'Submit'.

You can make a call at the toll-free number as well, 1-800-742-6787.
File a claim
To file a claim you need to visit,www.globelifeinsurance.com

Here from the menu go to, 'Customer service' and from the drop-down click on, 'Claim filing services'.
You have to be ready with all the necessary documents and send them to, Globe Life & Accident

Insurance Services Division

PO Box 8076

McKinney, TX 75070.

You can claim by sending an email at, Claims@GlobeLifeIns.com, or fax: 405-270-1496. For any further question, you can call, 1-800-654-5433. 7:30 a.m. to 6:00 p.m. Monday to Friday.
To pay the insurance online you need to register with an account and then after login you can go on with the payment.
Read Also : The AXA Insurance Premium Payment
Register with an account
To register you have to visit,www.globelifeinsurance.com

On the landing page at the right side of the menu, click on 'Policyholder login'.

In the next page press on, 'Register now'.

Here type your

Email address

Choose a password

Confirm email address

Verify the password and click on, 'Continue'.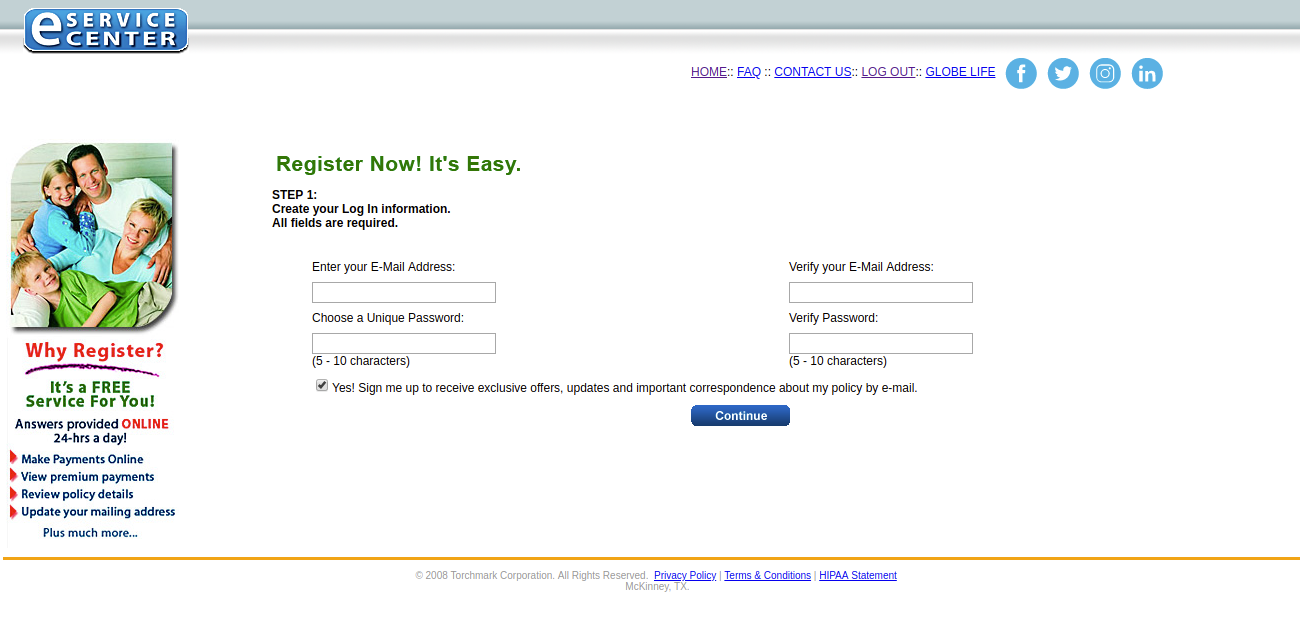 Do follow the later prompts and you will be able to register.
Logging into your account
Here in the 'Policyholder login' page type your registered email address and the verified password then press on 'Login'.
Forgot username or password
In case you have lost the login details of Globe life then you need to visit the same page and in the 'Policyholder login', click on, 'Click here' upon entering the email address. Follow the later instructions and you will get to reset the password.
Features of Globe life
Get to choose life insurance coverage up to, $1000,000

You don't need any medical exam

There is no waiting period

You have to pay only $1 for the first-month coverage
Benefits of Globe life online account
Get to pay online

Get to view premium payments

Get to review policy details

Get to update the mailing address.
Insurance payment
There are 4 ways you can pay the insurance, online, payment by mail, payment by phone, pay by bank draft. For this, you can visit, www.globelifeinsurance.com/faq?qa=2 .
Online payment
In this way, you have to register and then log in to your account. Take the note from the above-mentioned points.
Payment by mail
You can send the payment at, Premium Processing Center, Globe Life Center, Oklahoma City, OK 73184-0001.
Payment by phone
You can call at, 877-577-3860 and make payment.
Pay by bank draft
You can avail the automated payment, where amount will be deducted from your bank account automatically.
Contact details
For any kind of assistance, you need to call at the toll-free number- 1-877-577-3860
Monday to Friday, 7:30a.m. to 6:30p.m.
Reference :