Register And Pay Your Alabama Power Bill
Alabama is surrounded with natures beauty, and protecting this natural beauty is the goal of Alabama Power. The company provides, affordable and reliable electricity for its customers, and their main goal is to provide value to the community they serve.
Rates & pricing
Alabama Power has a unique way to present their rates and pricing for their customers. They offer at least 60 types of pricing option for their consumers. As a consumer, you can always choose the best rates from the same.
Here are the pricing details for your convenience,
LPLM Restricted Light and Power Service Manufacturing

OFP Oil Field Industrial Power

HLF High Load Factor Industrial

SG Standby Generator Capacity

LPM Light and Power Service – Medium

LPL Light and Power Service – Large

LPSE Restricted Light and Power Service – Small

LPME Restricted Light and Power Service – Medium

LPLE Restricted Light and Power Service – Large

SCH School Service
You can choose from the above-mentioned types easily. However, if you are a consumer of Alabama power you must know how to pay the bills.
For this, you can use the login in option as well, and you have to register for it first.
Register with Alabama power
Here on the next page, you have to press on the 'Register now' button.
On the directed page, you have to choose Alabama power and input your email address on the connected page.

After that press on the 'lookup account' button.

Follow the detailed prompts and you will be able to register.
After your registration, you have to log into your account to pay the bill.
Logging in to your account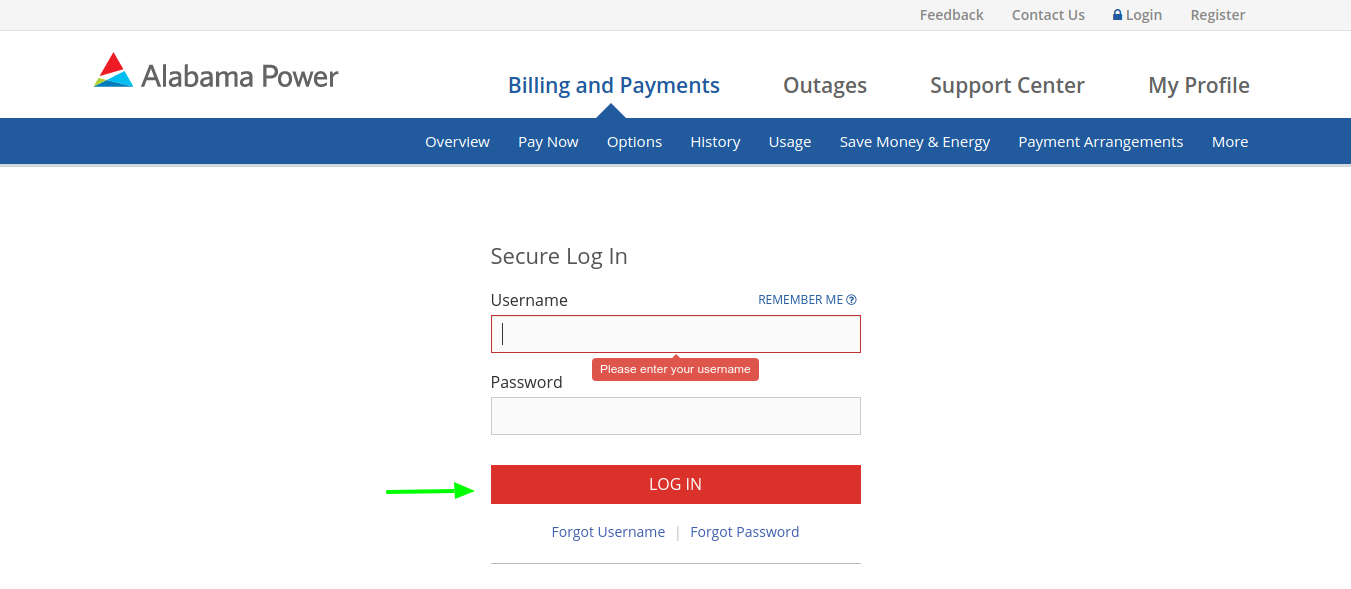 You will be taken to the next page where you can enter your username and the confirmed password, and press on the 'Login' button.
You can always pay your bill without logging in.
Pay without logging in
Benefits of Alabama power
You can switch and save up to $700 with an electric heat pump.

You can save money on energy-efficient appliances

Get renewable energy certificates.

Manage your online account.
Other payment methods
There are three different payment methods available.
Payment via mail
Send your payment with all the details to Alabama Power Payments, P.O. Box 242, Birmingham, Alabama 35292.
Payment via phone
Call on the toll-free number- 1-800-835-2702. Although you have to pay a fee of $2.25 for this payment method.
In-person
You can pay in person, for this, you have to visit https://customerservice2.southerncompany.com/Landing

Here you have to choose Alabama power and on the page, you have to enter your address, city and zip code, this way you will find the nearby payment location easily.
Also Read : Ambit Energy Online Bill Payment Guide
Contact details
If you have any query or issue with Alabama power, you can always contact the customer service at the toll-free number- 1-800-245-2244.
Reference :
www.alabamapower.com/residential/billing-and-payment-options